Virtual Reality Metaverse
Architectural visualization in the Metaverse
Imagine wearing a VR headset and being transferred to a whole new reality. You can perceive the real spaces and volumes of the surroundings.
You can freely move in the environment, looking in all directions just rotating your head. You can walk or crouch. Every step and every movement of your body in the real world is precisely translated to the virtual one. You will feel completely immersed.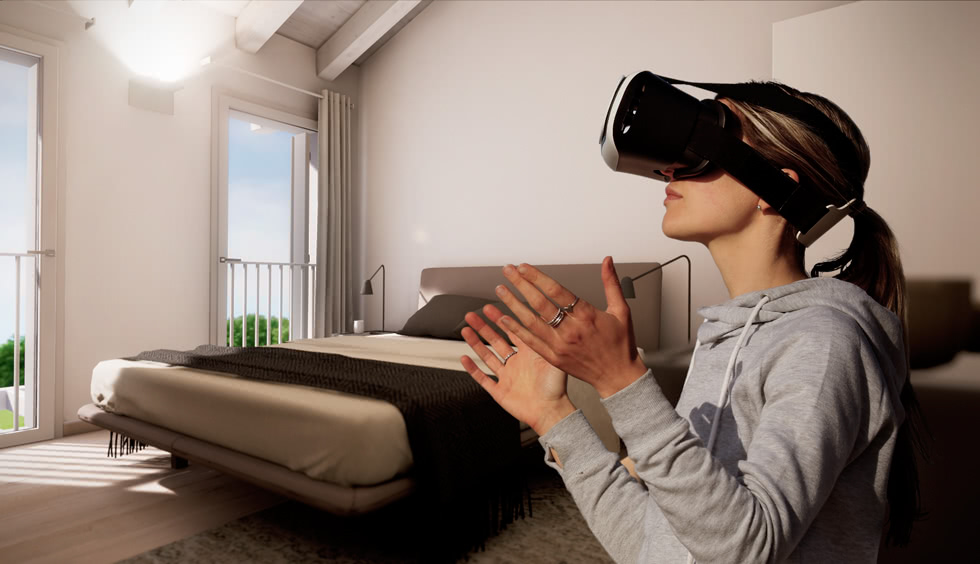 VR CAN ENHANCE YOUR CLIENT'S EXPERIENCE
VR opens new opportunities in the architectural sector. Designers or real-estate sellers usually have to wait for the construction of the building to show it to their clients. Even then, the client has to go to the building and enter its empty rooms.
Alternatively, they can use renders to preview the structure. In this case, clients can taste the feel of the furnished rooms, but it is not possible to correctly perceive spaces, distances, and volumes.
Today, thanks to VR, we can overcome these issues, combining only the advantages of the two approaches. Your client can visit the building like he was really there, walking through the rooms decorated in every detail.
Wireless

Freedom of movement

Total Immersion

Experience your home

Real volumes

Precise perception
WIRELESS EXPERIENCE
Conventional Virtual Reality headsets need to be attached to powerful computers to run. If this is appropriate for VR enthusiasts, it limits their usability among the general public.
We choose a stand-alone and wireless solution instead. The wireless headset ensures maximum comfort and safety. It is cheaper than the wired headsets, easy to use even for new users, and you can bring it anywhere.
Thanks to your expertise in the 3d modeling field, our VR apps are very optimized, and their graphic is as realistic as the pc apps.
Safety is always assured thanks to sensors that warn the user when he approaches obstacles in the real world.
Cost and advantages
Every project is different. We cannot determine a catch-it-all price in advance. However, the cost of a VR app is very close to a standard render one.
Included in the price you will also have:
Several rendered images;
A 30 seconds animation.
It is possible because, during the creation of a VR app, we reproduce every detail of the environment. Since it is a real-time app, rendering times for rendered images and frames calculate in no time. They are not considered in the final cost. Quality-wise, these images are very close to the standard rendered images.
The cost of the VR headset is not included.
WANT TO KNOW MORE?
For questions or quotations,This email address is being protected from spambots. You need JavaScript enabled to view it.